Agile project approach and incremental digitization
An e-commerce platform for meeting customer needs and strengthening customer relationships
Increased customer benefit, increased automation, increased digitization: That is what the Magento platform should achieve for FLYER. An e-commerce solution is being implemented in several iterative development phases. Bicycles and spare parts will be offered on the platform that has been developed so far. Configurable bikes for B2B and B2C customers will be added next, as well as the pre-order tool that is so important for bicycle manufacturers. One of the most important components is the seamless SAP integration. FLYER is taking an important step in its overall digitization strategy.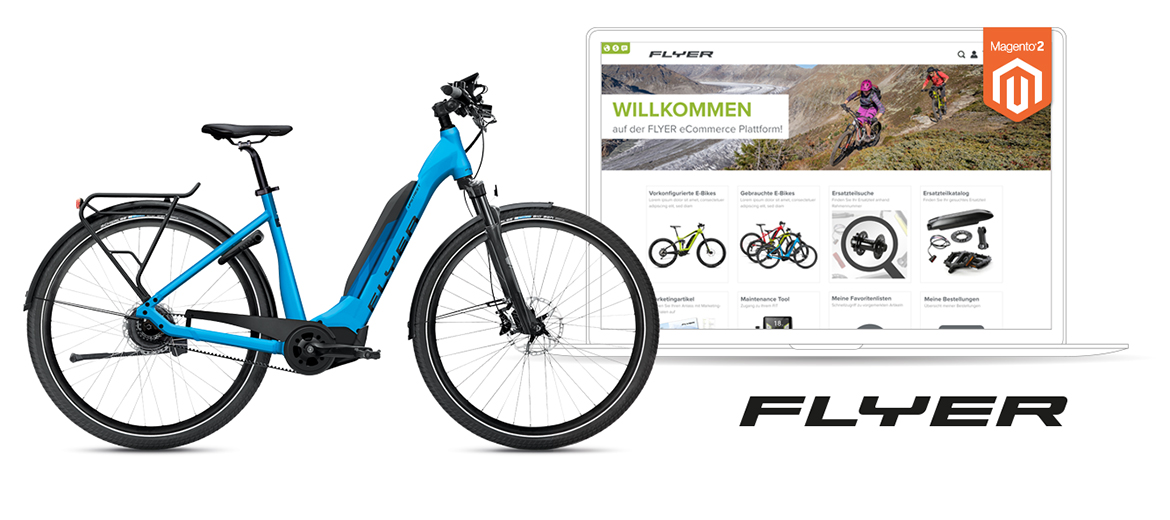 Biketec AG – FLYER AG since 01/01/2019 – was founded in 2001. It develops and produces premium e-bikes of the FLYER brand. The modern main location in the Swiss midland, exclusively designed for electric bikes, has around 200 employees, with another 50 in subsidiaries in Germany, Austria, and the Netherlands.
FLYER is the market leader in Switzerland. Its export share is well above 75 %, with its main markets being Germany and the Netherlands. The successful bicycle producer offers e-bikes for every need: from classic low-entry bikes and city bikes to sporty e-mountain bikes.
Integrating the e-commerce platform into the existing IT infrastructure to automatically map processes
Adequate brand presentation of FLYER on a new state-of-the-art website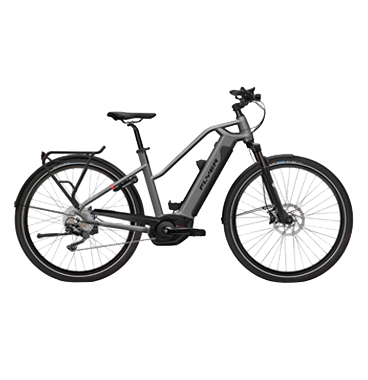 Developing a digitization strategy and definition of digitization steps
Creating a precise phase project plan, specifying which project step will be implemented when and in which time frame
Creating of user stories to define the precise user requirements and goals and to start into the project with a common understanding
Connecting to SAP as an enterprise resource planning system with predefined processes with which information is sent and fed back to the e-commerce system
Conceptual and technical support for the creation of a scalable high-performance hosting solution
Conception and design based on wireframes and clickflows
Setting up the platform in four languages for five countries with the correct product range and price models
Everything for the benefit of the dealer
Entering the unique frame number – a unique code that is embossed by the bike manufacturer or applied to the bike with a painted label – in the spare parts search will display all components of this bike to the dealer – from the tiniest bolt or nut to handlebars and pedals. The articles can be placed directly into the shopping cart or added to a shopping list.
Digitizing a bicycle manufacturer
By linking Magento to SAP, processes are automated and manual effort reduced. FLYER employees no longer have to enter orders manually – this is now done automatically. This reduces the error rate, of course, and relieves the employees.
Simple presentation of complex data and their dependencies
The e-commerce platform distinguishes between the different markets in which FLYER supplies its dealers. Using a complex price and language structure, dealers will be shown the correct prices after logging into the country that has been activated for them. This takes into account each country's individual conditions, such as product selection and prices/currency.
User-friendly interface
Using a type of simple price switcher, dealers can jump back and forth between wholesale and retail prices if they want to show their customers something directly on the order platform.
Disciplines & technologies